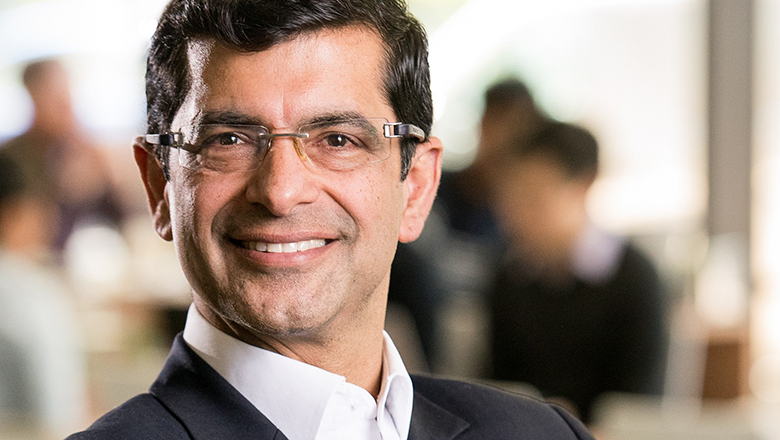 Professor Shitij Kapur.
Professor Kapur is well known at King's having previously served, between 2007 to 2016, as Vice-Dean Research for King's Institute of Psychiatry (IoP) and subsequently as Dean and Head of School for the Institute of Psychiatry, Psychology and Neuroscience (IoPPN) and Assistant Principal (Academic Performance). He will return to King's as President & Principal in June 2021, following more than four years at the University of Melbourne, where he is Dean and Assistant Vice Chancellor (Health) for the Faculty of Medicine, Dentistry and Health Sciences - Asia's highest-ranked medical faculty - and, latterly, interim Deputy Vice Chancellor (International).
During his time in Melbourne, Professor Kapur has significantly increased the educational footprint of his Faculty, introducing innovative models of learning, increasing both research income and impact, while doubling philanthropic support. He has rejuvenated the partnership of eight medical research institutes and ten hospitals as the Melbourne Academic Centre for Health. Additionally, in collaboration with colleagues across the university, he was involved in creating the Melbourne Disability Institute; launching the Centre for the Digital Transformation of Health; and, helped establish a new multi-faculty, multi-university, research institute for engineering and medicine – the Aikenhead Centre for Medical Discovery.
On his appointment, Professor Kapur said: 'I am passionate about King's and it is a privilege to be appointed President & Principal of an institution that has been such an important part of my life in a city that I love. My ambition is to lead King's as it prepares students for the complex post-COVID world and solves global challenges with its multi-disciplinary strengths and excellence. I truly believe that the heart of a great university lies in the academic excellence of its students and staff and their ability to explore and debate new ideas. I'm looking forward to collaborating with the King's community to further enhance King's role and influence, locally, nationally and globally.'
Lord Geidt said: 'The decision of Council and the Selection Panel to appoint Professor Kapur was unanimous. An international and strategic leader, Professor Kapur is already an architect of world-class education and research, who strongly shares the ethos of service to society that is central to King's Vision. His ability to engage through leadership has enabled him to build diverse and inclusive teams that exemplify the university's strategy and deliver excellence.'
Professor Sir Edward Byrne AC commented: 'I am delighted to be handing the important baton of President & Principal to Shitij, who I know will be fantastic in the role. With his tremendous international experience, and deep knowledge of King's, he will be a great leader for the university. He is also a world leading neuroscientist, an academic specialism we share, and he cares deeply for King's and its future. I wish him all the best.'
Professor Kapur's early career at King's began in 2007 when he joined as Professor of Schizophrenia, Imaging and Therapeutics and Vice-Dean Research, Institute of Psychiatry (IoP). He was then appointed Dean and Head of School in 2010, making positive and lasting changes to the King's community. It was under his leadership that the IoP became the IoPPN, with the integration of Neuroscience. He steered the Institute through the REF 2014, in which the faculty was judged to have the second highest research power in the UK for Psychiatry, Psychology and Neuroscience, with 100 per cent of its impacts and research environment as world leading or internationally excellent.
Professor Kapur's leadership extends beyond higher education and his specialism and expertise in medicine. He has served on the boards of world-class external institutions, managing relationships with government and industry. During the COVID-19 pandemic he has co-chaired a national Taskforce of over 100 scholars from eight Australian universities to deliver Australia's COVID Roadmap to Recovery for the Australian government.
Professor Kapur is recognised worldwide for his own research on understanding psychosis and antipsychotic treatment – with over 300 papers, numerous presentations and an H-index of 90. While at King's he led NEWMEDS, an international consortium of scientists from 19 institutions from nine EU countries, which was one of the largest academic-industry research collaboration projects in its time. He has also received many awards and honorary fellowships including the honours of Distinguished Fellow of the American Psychiatric Association, a Fellow of the Academy of Medical Sciences (UK), a Fellow of the Academy of Health and Medical Sciences (Australia) and a Fellow of King's College London with an Honorary Doctorate from the University of Copenhagen.
Professor Kapur will begin his tenure in June 2021 as successor to Professor Sir Edward Byrne AC, who will step down as President & Principal at the end of January 2021. Professor Evelyn Welch, Provost/Senior Vice President (Arts & Sciences) will take on the role of Interim President & Principal from February 2021, ahead of Professor Kapur's arrival.
Reflecting on Professor Sir Edward Byrne's tenure Lord Geidt continued: 'Professor Byrne's exemplary stewardship of King's College London included the King's Vision for 2029, the acquisition of Bush House as well as building our educational offer with the addition of the King's Business School and the redevelopment of the School of Engineering within the Faculty of Natural & Mathematical Sciences. King's now has greater global links as well as partnerships within London, which is down to his work especially through industry and business.'
https://www.kcl.ac.uk/news/professor-shitij-kapur-appointed-president-principal